Today I was going out straight with my house work. Well, actually I attacked my bedroom. That is the worst room in my home. I've been dreading doing it for a long time! But my sister in law suggested to bring all the boxes and bins out in to the living room and sort them. Well I was going to do that, but decided to just pull a couple boxes and bins out at a time (no one knows how many boxes and bins I have in there, and if I brought them out...oh boy, I wouldn't have a living room, LOL). So while I was going through the boxes and bins I found some curtains that I had packed away. They smelled so good, (cedar) and decided to take down the curtains that were in my kitchen and replace them with these.
This picture was actually taken a year ago when I started Flylady the first time.
I have to say, my kitchen isnt' that clean anymore:(
And here is my new curtains I just put up!
I really like them. They give a new feel in the kitchen!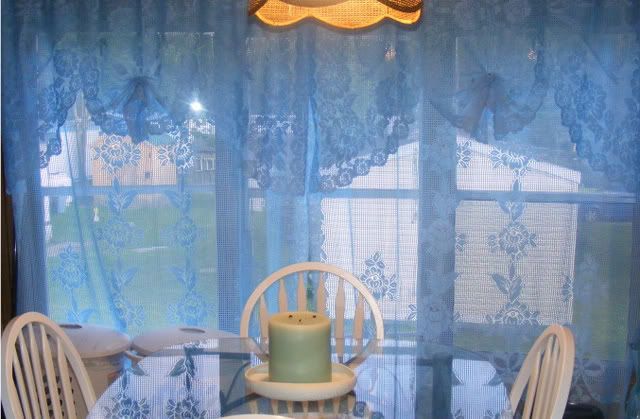 Noticed I made sure you can't see my floor, LOL.
Don't worry, my kitchen will be clean by the end of the weekend.
I'll post some before/after photo's.