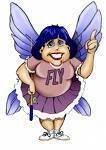 I joined
Flylady
about a year ago, and was making so much progress. I met some other flybabies on the
Flylady Forum
who really motivated me, then I started inspiring others with
my thread
on the forum. Amazing huh, I had a really good routine written out and I did it everyday. I was so proud of myself. I really felt I finally got it!
Yet, I'm there again. Life has change directions, and now I need to change my routines to fit my life. Instead of a being home 24/7, I'm now bringing the boys to school & more appointments for them & me. Also with the boys being one year older, well, it's different. Nap times are different, needing more play and one on one time with all three of them and wanting to do more as a family as well. I've got to learn this again, since I have stoped doing my routines for about 4-5 months now. I have to admit, I felt more at peace with myself, my family and my home when routines were being done, and knowing that, will be enough motivation (as well with looking at my before and after pics of last time).
So I'm starting my
Day 1
of the Flylady Babysteps. I've also updated my Ipod for her
podcast
and I'll be checking out her
Yahoo Group
more often as well. I also got her book,
Sink Reflections
that I'll be reading to help me. I still will be posting Daily Cleaning Challenges, as that's something I really look forward to.
I will back to post my Day 1 accomplishment!